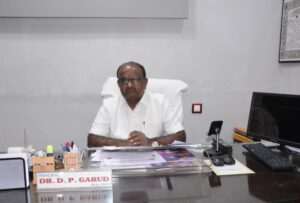 Dr. Dilip P. Garud
Dear Students,
I warmly welcome you all in our Adarsh Senior College. We have been dwellingin the postmodern age which is also known as the era of computer, higher education and we have been finding a great competition in every arena of life. Today, the world we see is of science, new inventions and competitions to excel over the other. We must be proud to be a part of our great country but the world has shrunk today to a common platform on the basis of higher education and learning. Everybody has to be ready to receive and contribute for new ideas, thoughts, innovative concepts and systems. To gain the benefits of modern society and compete with the outside world, it is necessary that youth of our country must acquire higher education. It is the era where we may find two different positions which might be called as Computer Literacy and Computer Illiteracy. Our basic aim is to provide quality education to the rural students. Only in order to develop and improve the rural students, we have acquired various schemes and programmed from the UGC.
I simply feel proud to state that recently we have successfully gone through the process of NAAC Re accreditation (IInd Cycle) and got the 'B' Grade with 2.92 CGPA. It shows our efforts and endeavors that we have been trying to implement in the higher education to strengthen its quality and result. We have been providing not only the quality education through our institute but we also have been trying to make available every facility for our rural student which is expected to be given in metropolitan cities. In addition to this last year we have successfully organized UGC sponsored five seminars and conferences of Physics, Chemistry, Botany, English and Political science. We also have been awarded by the State Government of Maharashtra's Jagar Janiwancha District Level IInd Award.
We have been trying our level best to be the part of Global Education. Hence,recently we have started the PG Courses like M. Sc. (Comp. Sci), M. Sc.(Microbiology) whereas we already have M.Sc. (Botany), M.Sc. (Mathematics), M.Sc. (Zoology) and M.A. (His).Apart from it, to motivate the students and make them familiar with the real plight of higher education and its importance we conduct various competitions in our college, such as speech competition, debate, poetry reading, tests on current knowledge, etc. and make the students involve in it.
Recently, we have been granted some schemes by UGC. I am quite sure that these schemes will play a vital role in building up the students' career and boosting up their confidence. It includes the schemes like College with Relatively Higher Proportion of SC/ST and Minorities, Establishment of Day Care Center, Establishment of UGC Network Resource Center, Equal Opportunities Center, Remedial Coaching for SC/ST/OBC (Excluding Creamy Layer) and Minorities, Coaching Classes for Entry in Services for SC/ST/OBC (Excluding Creamy Layer) and Minorities and Career and Counseling Cell.
UGC also offers stipend for some scholar and selected students through these schemes. We made available number of books for competitive examination and separate space and building for library. We also made available constant Internet facility for the students and faculty members of the College. We try our level best to take care of the students from which they may prove their caliber and confidently create their identity in this world.
I am greatly indebted to all the directors of the institution for their precious support, comfort and encouragement for implementing all these things and indulging in pious arena of education.
Dr. Dilip P. Garud
Principal